Back
Archie Sugar-Harmer
Precision Driver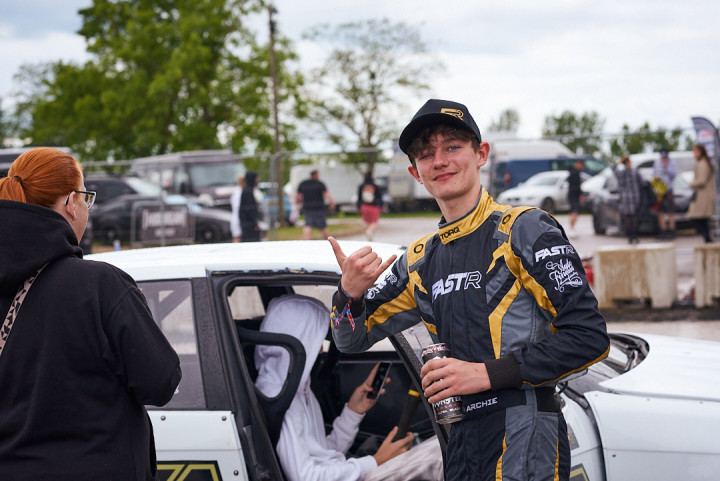 Location: United Kingdom
At just 15 years old, Archie is FastR's Future Drift Superstar. We first met Archie during the Power Hour section of 2021's inaugural Shred Shed Live event and were deeply impressed with what we saw.
Fast-forward a year, and Archie is now a fully-fledged FastR Athlete. We were looking to support the whiz-kid during his 2022 assault on the British Drift Championship crown, but when a spot appeared on the Shred Shed Live roster, it didn't long for us to sign him up.
He's now a full-time member of FastR's Drift Squad, with a place at every Shred Shed Live this year. Archie's E36 is completely home built by him and his dad and has seen the father-son duo spend countless hours in the garage, even live mapping the car themselves on the roads in North London.
Driver Bio:
How old are you? 15

Where are you from? "Hertfordshire"
What are your career highlights? "Battling with Connor Shanahan, obviously doing Shred Shed Live, and finishing 8th in British Drift Championship in my first year is right up there. Gaining Hard Charger at Battle Royale gave me the opportunity to prove myself in British Drift Championship's Pro 2 category, at the time making me Youngest British Driver in the Championship was pretty awesome too."
What are your best results to date? "4th in British Drift Championship, I've had 4 Hard Chargers (2 in BDC), along with Best Pro Chase of The Weekend against Conor Shanahan, Driver of The Weekend in the same event, and also Best Up and Coming Driver in 2021 at Three Sisters."
What is your ultimate motorsport goal? "I think my dream goal is to one day be World Champion! I feel like with hard work, it is possible, but I think my goal at the moment is to just be known for my driving and trying to put on a show for everyone. At the end of the day, that's why I like doing what I'm doing, but right now I'm concentrating on being out there, and having an impact on the scene, showing people that anything is possible, no matter where you come from."