Back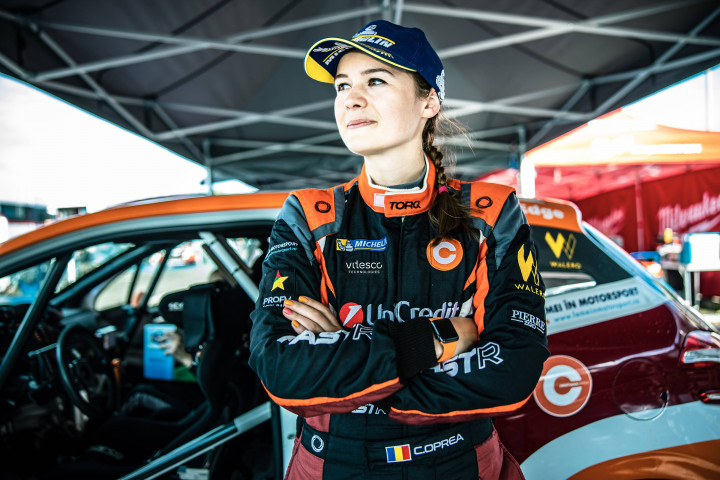 Location: Romania
Cristiana Oprea may not be a household name here on the British motorsport circuit, but in the world of European rallying, she's a big deal and has worked hard to raise the profile of women in motorsport, a cause which is very close to our hearts.
Starting as a codriver back in 2015, Cristiana soon found herself behind the wheel, and just 4-years-later, made her debut in the prestigious European Rally Championship, scoring the maximum number of points possible across the event.
It's 2022 that she has really made a name for herself, though, thanks to taking part in the World Rally Championship and the all-electric Opel Cup simultaneously, using FastR Race Suits, with her team fully kitted out in FastR Bespoke Motorsport Apparel.
Driver Bio:


Age: 30

Where are you from? "Bucharest, Romania"

What are your career highlights? "Debuting in 2015 as a rally codriver, then as a driver in Dacia Cup, racing a Dacia Sandero in the Romanian National Rally Championship. I had my European Rally Championship debut in 2019, at Rally di Roma Capitale, and achieved maximum points in the ERC Ladies Trophy. My first WRC event at Croatia Rally and electric rallies in Opel Cup this year have been super exciting too."
What are your best results to date? "Finishing P5 out of 19 crews in Dacia Cup 2018 (Romanian National Rally Championship) was a great feeling, as well as P2 in the Dacia Cup on the famous mountain road Transfăgărășan at Argeș Rally 2019 (first woman driver on the Dacia Cup overall podium in all 13 years of the series). Top has to be scoring maximum points in the ERC Ladies Trophy and P8 ERC3 at Rally di Roma Capitale 2019, at my FIA ERC debut (European Rally Championship)."
What is your ultimate motorsport goal? "I strive to build a solid funding project for my career as a rally driver, to be able to compete full seasons in the FIA European Rally Championships and then in the WRC.
"Currently, one of my biggest goals is to build my pace and have the chance to compete in Extreme E, a ground-breaking all-electric series racing in the most remote corners of the world."

Who are your Motorsport Heroes? "I follow and admire a lot of female drivers all around the world, because thanks to them I learned anything is possible if you dream big and work hard enough - Michele Mouton, Christine Giampaoli Zonca, Catie Munnings, Ekaterina Stratieva, Tamara Molinaro and Rachele Somaschini just to name a few."